Well, the English core army is rapidly approaching its completion. Today I have finished the 73rd and with it the 5th brigade. As the acquired collection is incorporated into the new army, with each regiment more work has to be done. In addition to the painting of heads with the Belgic shako here I had to paint the soldiers of the flank companies and, most important, the command base. For this I have used the Perry metals.
Well, inspite they are as usually great figures, I have to say I like the plastic command better. Not only is the detail there more crisp, but there is also much less cleaning required. The typical thin metal tubes you get from the air ducts of the casting mold are really an issue here. I don't know why no other manufacturer has these, but with the Perries you find them in excess. As much as I love painting their figures, I really hate cleaning them, and often enough I find another metal strip in some difficult to reach area of a figure, just when I have applied the paint. I wish there would be miniature cleaning- and priming services available – I'd be glad to use them.
Well, back to the main topic. Here is Pictons 5th British Brigade in all its glory…

… and to the right of it the 73rd Pertshire regiment of foot: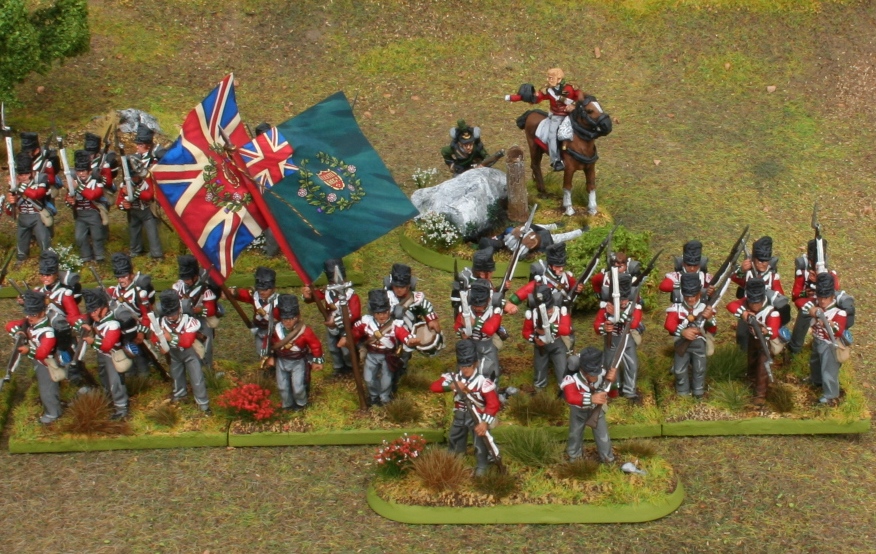 Now only one regiment, the high command and some skirmishers are left. And, of course, the Brunswickers. On the one hand that seems a lot to do, on the other I'm quite pleased with the progress of this project. If I can keep up the pace, I should be able to finish the army in early October.